Follow @BeerSmith
Beer historian Martyn Cornell joins me this week to discuss the history of English Mild Ale which was the dominant UK beer style for nearly 80 years.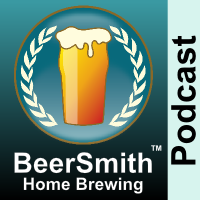 Subscribe on iTunes to Audio version or Video version or Spotify or Google Play
Download the MP3 File– Right Click and Save As to download this mp3 file.
Topics in This Week's Episode (48:22)
This week I welcome first time guest Martyn Cornell. Martyn has been writing about the history of beer for more than 20 years and is a multiple trophy winner of both the North American Guild of Beer Writers and British Guild of Beer Writers.
Martyn is the author of the book Amber, Gold & Black: The History of Britain's Great Beers (Amazon affiliate link).
We discuss the brief history of Porter which preceded Mild as the most popular beer style in the 18th and first half of the 19th century.
Martyn explains the reign of British mild which became popular in the 1880's and remained the top beer until the 1960's – and now is almost extinct.
He discusses the beer itself and how it was brewed throughout the period. The style did change substantially becoming weaker particularly after WWI due to taxes and shortages of ingredients.
We talk about the ingredients and techniques used to brew the beer and why it was served quickly.
Martyn provides a few tips for those looking to brew a British mild.
He explains what ultimately replaced Milds as well as provides his closing thoughts.
Sponsors
Thanks to Martyn Cornell for appearing on the show and also to you for listening!
iTunes Announcements: I launched a new video channel for the BeerSmith podcast on iTunes, so subscribe now! At the moment it will only feature the new widescreen episodes (#75 and up). Older episodes are available on my revamped Youtube channel. Also all of my audio episodes are on iTunes now – so grab the older episodes if you missed any.
Thoughts on the Podcast?
Leave me a comment below or visit our discussion forum to leave a comment in the podcast section there.
Subscribe to the Podcast on iTunes or BeerSmith Radio
You can listen to all of my podcast episodes streaming live around the clock on our BeerSmith Radio online radio station! You can also subscribe to the audio or video using the iTunes links below, or the feed address
And finally, don't forget to subscribe to the blog and my newsletter (or use the links in the sidebar) – to get free weekly articles on home brewing.
Related Beer Brewing Articles from BeerSmith:
Enjoy this Article? You'll Love Our BeerSmith Software!
Don't make another bad batch of beer! Give BeerSmith a try - you'll brew your best beer ever.
Download a free 21 day trial of BeerSmith now