Follow @BeerSmith
Xavier Losada joins me this week from Madrid Spain to discuss his experiences as a Chemical Engineer for a big brewery and his transition to a Craft Brewery owner with Bee Beer.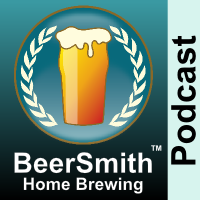 Subscribe on iTunes to Audio version or Video version or Spotify or Google Play
Download the MP3 File– Right Click and Save As to download this mp3 file.
Topics in This Week's Episode (42:49)
This week I welcome Xavier Losada. Xavier is a Chemical Engineer who worked for 11 years as a Technical Manager at Cerveceia Polar, one of the largest breweries in Venezuela. Six years ago Xavier migrated to Madrid, Spain to found his own small brewhouse called Bee Beer.
We start by discussing Xavier's time at Polar as a Chemical Engineer working with one of the largest breweries in the area. Xavier explains how producing the beer became increasingly challenging as Venezuela's economic situation deteriorated.
We talk about the impact of the Craft Beer revolution, as well as some of the reasons Xavier and his family eventually decided to leave Venezuela.
Xavier explains some of the reasons behind his decision to found Bee Beer.
We talk about the size and theme behind his small brewery.
Xavier explains the beers he offers and how he is trying to promote craft beers in an area that is still dominated by light lagers.
We talk about his beer lineup and how he gypsy brews his beer.
We briefly discuss the Craft Beer scene in Madrid and its growth and evolution.
Xavier explains the impact of COVID, which most significantly dried up the tourism that is central to his location in Madrid.
We discuss his future plans for Bee Beer.
He shares some lessons he learned working both at a very large brewery and running his own small Craft Beer room.
Sponsors
Thanks to Xavier Losada for appearing on the show and also to you for listening!
iTunes Announcements: I launched a new video channel for the BeerSmith podcast on iTunes, so subscribe now! At the moment it will only feature the new widescreen episodes (#75 and up). Older episodes are available on my revamped Youtube channel. Also all of my audio episodes are on iTunes now – so grab the older episodes if you missed any.
Thoughts on the Podcast?
Leave me a comment below or visit our discussion forum to leave a comment in the podcast section there.
Subscribe to the Podcast on iTunes or BeerSmith Radio
You can listen to all of my podcast episodes streaming live around the clock on our BeerSmith Radio online radio station! You can also subscribe to the audio or video using the iTunes links below, or the feed address
And finally, don't forget to subscribe to the blog and my newsletter (or use the links in the sidebar) – to get free weekly articles on home brewing.
Related Beer Brewing Articles from BeerSmith:
Enjoy this Article? You'll Love Our BeerSmith Software!
Don't make another bad batch of beer! Give BeerSmith a try - you'll brew your best beer ever.
Download a free 21 day trial of BeerSmith now