Follow @BeerSmith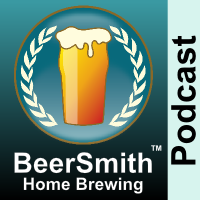 John Blichmann, President of Blichmann Engineering joins me this week to discuss starting a nano-brewery including equipment options as well as many of the business considerations that come into play with starting a beer brewery on a shoestring.
Subscribe on iTunes to Audio version or Video version
Download the MP3 File – Right Click and Save As to download this mp3 file
[audio:http://traffic.libsyn.com/beersmith/BSHB-110-Blichmann.mp3]

Topics in This Week's Episode (32:37)
John Blichmann, the President of Blichmann Engineering joins me this week to discuss beer brewing options for really small (sub 1 to three barrel) "nano-breweries" and also provides some great tips on selecting equipment and starting a tiny brewery on a shoestring. Blichmann Engineering is a world leader in dedicated home and craft brewing equipment and his products can be found in most major brewing retail stores.
Thank you to our sponsor Craft Beer and Brewing Magazine who is still offering a 15% discount with your subscription or other items when you use the new offer code beersmith2015 when you purchase.
Also check out BeerSmith, BeerSmith Mobile software and the new DVDs John Palmer and I filmed – How to Brew with Malt Extract and How to Brew All Grain are available now. You can subscribe to the BeerSmith newsletter for free to get some great articles on home brewing.
This episode was recorded on the noisy show floor at the 2015 National Homebrew Conference, so there is some background noise which I apologize for.
John tells us why he's seen a significant uptick in the purchase of nano-brewery size equipment recently.
We discuss why a nano-brewery size (typically 1-3 barrels) appeals to someone who might be trying to self-fund a small brewery startup.
John explains what a typical equipment setup looks like for this type of brewery.
We talk about some of the advantages when using an electric heating element with these systems including heating efficiency and less venting required.
John tells us about fermentation options from simple large buckets to conical fermenters with full temperature control.
I ask John about why you need to brew frequently with a small system and managing fermenters.
We talk about the advantages of being able to brew a lot of different small batches.
John shares some options for automating your small nano-brewery.
We discuss some of the equipment options offered by Blichmann Engineering in the nano-brewery size.
John explains some of the difficulties of taking a successful nano-brewery to the next level including funding and expansion of equipment as well as making the switch from selling beer on site to wholesaling.
We discuss how you can often use your nano-brewery setup as a test pilot system for your large brewery after upgrading.
John shares a few of the new products coming from Blichmann engineering along with his closing thoughts.
Thanks to John Blichmann for appearing on the show and also to you for listening!
iTunes Announcements: I launched a new video channel for the BeerSmith podcast on iTunes, so subscribe now! At the moment it will only feature the new widescreen episodes (#75 and up). Older episodes are available on my revamped Youtube channel. Also all 81 audio episodes are on iTunes now – so grab the older episodes if you missed any.
Thoughts on the Podcast?
Leave me a comment below or visit our discussion forum to leave a comment in the podcast section there.
Subscribe to the Podcast on iTunes or BeerSmith Radio
You can listen to all of my podcast episodes streaming live around the clock on our BeerSmith Radio online radio station! You can also subscribe to the audio or video using the iTunes links below, or the feed address
And finally, don't forget to subscribe to the blog and my newsletter (or use the links in the sidebar) – to get free weekly articles on home brewing.
Related Beer Brewing Articles from BeerSmith:
Enjoy this Article? You'll Love Our BeerSmith Software!
Don't make another bad batch of beer! Give BeerSmith a try - you'll brew your best beer ever.
Download a free 21 day trial of BeerSmith now