Follow @BeerSmith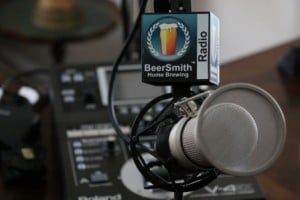 Michael Fairbrother, award winning mead maker and CEO of Moonlight Meadery joins me this week to discuss making fruit meads and melomels. Michael uses fruit in many of his top selling meads and has a unique perspective on what fruits to use and how to get the best mead from fruit and honey!
Editors Note: After some video hardware issues last week, I upgraded the video system to full HD now – so enjoy the new HD video podcast.
Subscribe on iTunes to Audio version or Video version
Download the MP3 File – Right Click and Save As to download this mp3 file
[audio:http://traffic.libsyn.com/beersmith/BSHB-119-Mead.mp3]

Topics in This Week's Episode (43:49)
Michael Fairbrother joins me this week to discuss making meads with fruit (called Melomel). Michael is owner and founder of Moonlight Meadery as well as a nationally award winning mead maker. He started his meadery in 2010 in his garage and has grown to become one of the largest meaderies in the Northeast. Michael also joined us for three previous episodes where we discussed the basics of mead making including Episode #88, Episode #65 and Episode #43.
We briefly discuss some of the new things going on at Moonlight Meadery.
Michael talks about what's different about making mead with fruit
He explains some of the major categories of Melomel, and we discuss the new BJCP mead guidelines
Michael tells us why some fruits provide more flavor and also shares some of his favorite flavors to work with
We talk about flavor combinations and how some fruit combinations can complement and enhance each other
Michael shares us why he prefers to work with fresh fruit instead of frozen or fruit concentrate
We talk about fruit preparation, including freezing some fruits, as well as when its best to add your fruit to the mead
He discusses how much fruit to use for a given quantity of mead
We talk about preserving the flavor of fruits and the use of certain chemicals
Michael shares his thoughts on finding a variety of honey that goes well with the fruit
We discuss dealing with high acidity fruits like citrus fruit
He provides some tips on finishing his melomels
Michael shares his closing thoughts and a few things that are new at Moonlight Meadery
Sponsors
Thanks to Michael Fairbrother for appearing on the show and also to you for listening!
iTunes Announcements: I launched a new video channel for the BeerSmith podcast on iTunes, so subscribe now! At the moment it will only feature the new widescreen episodes (#75 and up). Older episodes are available on my revamped Youtube channel. Also all of my audio episodes are on iTunes now – so grab the older episodes if you missed any.
Thoughts on the Podcast?
Leave me a comment below or visit our discussion forum to leave a comment in the podcast section there.
Subscribe to the Podcast on iTunes or BeerSmith Radio
You can listen to all of my podcast episodes streaming live around the clock on our BeerSmith Radio online radio station! You can also subscribe to the audio or video using the iTunes links below, or the feed address
And finally, don't forget to subscribe to the blog and my newsletter (or use the links in the sidebar) – to get free weekly articles on home brewing.
Related Beer Brewing Articles from BeerSmith:
Enjoy this Article? You'll Love Our BeerSmith Software!
Don't make another bad batch of beer! Give BeerSmith a try - you'll brew your best beer ever.
Download a free 21 day trial of BeerSmith now