Follow @BeerSmith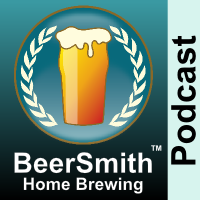 Michael Fairbrother, the founder of Moonlight Meadery joins me this week to discuss how to make Braggot which is a combination of beer and mead made from both honey and barley grain.
Subscribe on iTunes to Audio version or Video version or on Google Play
Download the MP3 File – Right Click and Save As to download this mp3 file
[audio:http://traffic.libsyn.com/beersmith/BSHB-138-Braggot.mp3]

Topics in This Week's Episode (46:19)
Today my guest is Michael Fairbrother, the founder and CEO of Moonlight Meadery. Michael is also a nationally award winning mead maker and has brewed some of the finest Braggots I've ever tasted.
We start with a discussion of what Braggot is and also a bit about the history of Braggot.
Michael explains some of the interesting regulations surrounding Braggot which is in a bit of a no-mans land in many states due to differences in laws governing breweries and wineries.
Michael talks about the two basic ways of creating braggot – fermenting the honey and barley togther versus blending a finished mead with a finished beer.
We discuss which beer styles are best to use as a base for a Braggot, but also how experimenting can create some interesting results.
Michael shares his process for brewing an award winning Braggot.
We talk about the use of nutrients and oxygen during fermentation.
Michael shares his thoughts on sulfites and sorbates used to arrest fermentation and stabilize the braggot.
He explains the backsweetening process, though he does not use it much.
We discuss filtering a mead or Braggot and what options you have at home.
Michael talks about the historical use of spices and some spices you can try in your Braggot.
He shares his final tips on Braggot.
Michael shares some of the new things going on at Moonlight Meadery including both Braggots and Ciders.
Sponsors
Thanks to Michael Fairbrother for appearing on the show and also to you for listening!
iTunes Announcements: I launched a new video channel for the BeerSmith podcast on iTunes, so subscribe now! At the moment it will only feature the new widescreen episodes (#75 and up). Older episodes are available on my revamped Youtube channel. Also all of my audio episodes are on iTunes now – so grab the older episodes if you missed any.
Thoughts on the Podcast?
Leave me a comment below or visit our discussion forum to leave a comment in the podcast section there.
Subscribe to the Podcast on iTunes or BeerSmith Radio
You can listen to all of my podcast episodes streaming live around the clock on our BeerSmith Radio online radio station! You can also subscribe to the audio or video using the iTunes links below, or the feed address
And finally, don't forget to subscribe to the blog and my newsletter (or use the links in the sidebar) – to get free weekly articles on home brewing.
Related Beer Brewing Articles from BeerSmith:
Enjoy this Article? You'll Love Our BeerSmith Software!
Don't make another bad batch of beer! Give BeerSmith a try - you'll brew your best beer ever.
Download a free 21 day trial of BeerSmith now