Follow @BeerSmith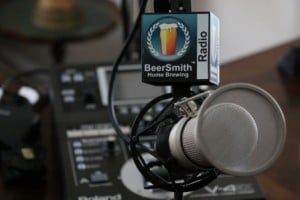 Sean Paxton, aka "The Homebrew Chef" joins me this week to discuss the pairing of beer and food and how he plans entire multi-course meals around various beers.
Subscribe on iTunes to Audio version or Video version or on Google Play
Download the MP3 File – Right Click and Save As to download this mp3 file
[audio:http://traffic.libsyn.com/beersmith/BSHB-145-Paxton.mp3]

Topics in This Week's Episode (52:23)
Today my guest is Sean Paxton, also known as "The Homebrew Chef". Sean is a professional beer chef, author and runs a very nice food-beer pairing website at HomebrewChef.com. Sean joins me this week to discuss pairing food with beer.
Sean tells us about some of his new projects including the building of his online cookbook/recipe site for beer at HomebrewChef.com
We discuss the anatomy of a beer dinner and some recent examples Sean has been the chef for.
Sean explains "The Paxton Project" which is a several year old Imperial Quad beer and how he got involved in the project with 10 barrel.
We talk about his food pairing selection for an Imperial Quad (duck) and how he prepared that.
Sean shares how he approaches pairing each course of the meal with beer
We talk about how he tries to reflect the flavors in the beer rather than complementing them when building a meal.
Sean shares why he likes to cook with beer and also the ingredients of the beer when building a meal.
He shares his latest project – the online web site and offers a special code 'beersmith' you can use at HomebrewChef.com to get a discount on memberships.
Sean provides his closing thoughts.
Sponsors
Thanks to Sean Paxton for appearing on the show and also to you for listening!
iTunes Announcements: I launched a new video channel for the BeerSmith podcast on iTunes, so subscribe now! At the moment it will only feature the new widescreen episodes (#75 and up). Older episodes are available on my revamped Youtube channel. Also all of my audio episodes are on iTunes now – so grab the older episodes if you missed any.
Thoughts on the Podcast?
Leave me a comment below or visit our discussion forum to leave a comment in the podcast section there.
Subscribe to the Podcast on iTunes or BeerSmith Radio
You can listen to all of my podcast episodes streaming live around the clock on our BeerSmith Radio online radio station! You can also subscribe to the audio or video using the iTunes links below, or the feed address
And finally, don't forget to subscribe to the blog and my newsletter (or use the links in the sidebar) – to get free weekly articles on home brewing.
Related Beer Brewing Articles from BeerSmith:
Enjoy this Article? You'll Love Our BeerSmith Software!
Don't make another bad batch of beer! Give BeerSmith a try - you'll brew your best beer ever.
Download a free 21 day trial of BeerSmith now