Follow @BeerSmith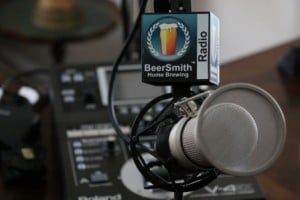 Jason Romano joins me from Lake Anne Brew House in Reston, VA to discuss his experience in opening and running a small nano-brewery and tap-house.
Subscribe on iTunes to Audio version or Video version or on Google Play
Download the MP3 File – Right Click and Save As to download this mp3 file
[audio:http://traffic.libsyn.com/beersmith/BSHB-158-Nano.mp3]

Topics in This Week's Episode (47:18)
Today my guest is Jason Romano. Jason is a founder and head brewer at Lake Anne Brew House in Reston, Virginia. He is also an award winning brewer including the 2016 and 2017 Virginia Brewers Guild Beer Cup. He joins us to discuss planning and operating a very small brewery and taphouse.
We start with the topic of what inspired Jason and his wife Melissa to found Lake Anne Brew House.
Jason shares some of the challenges in planning, opening and operating a small (2 barrel) brewhouse.
We talk about his business model which is based solely on sales from the tap room.
Jason tells us about how his wife Melissa, who is an architect, designed and manages the tap room.
He shares the brewing equipment he uses about twice a week to keep the tap room supplied.
We discuss some of the first beers he put on tap.
He shares his thoughts on a few of his flagship beers as well as beers that he rotates or experiments with.
Jason talks about where he finds inspiration for new beers.
We discuss the brewing aspects vs business aspects of running the brewery.
He shares his plans for growth and why he things the tap room model is a great model for those who want to enter the world of pro-brewing.
We talk about the advantages of staying small as well as packaging options (growlers and crowlers).
He shares his advice for others looking to build and operate a small brewery.
Sponsors
Thanks to Jason Romano for appearing on the show and also to you for listening!
iTunes Announcements: I launched a new video channel for the BeerSmith podcast on iTunes, so subscribe now! At the moment it will only feature the new widescreen episodes (#75 and up). Older episodes are available on my revamped Youtube channel. Also all of my audio episodes are on iTunes now – so grab the older episodes if you missed any.
Thoughts on the Podcast?
Leave me a comment below or visit our discussion forum to leave a comment in the podcast section there.
Subscribe to the Podcast on iTunes or BeerSmith Radio
You can listen to all of my podcast episodes streaming live around the clock on our BeerSmith Radio online radio station! You can also subscribe to the audio or video using the iTunes links below, or the feed address
And finally, don't forget to subscribe to the blog and my newsletter (or use the links in the sidebar) – to get free weekly articles on home brewing.
Related Beer Brewing Articles from BeerSmith:
Enjoy this Article? You'll Love Our BeerSmith Software!
Don't make another bad batch of beer! Give BeerSmith a try - you'll brew your best beer ever.
Download a free 21 day trial of BeerSmith now