Follow @BeerSmith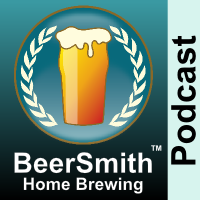 Stan Hieronymus joins me this week to discuss cutting edge research into the role hop thiols play in creating fruity, tropical IPA flavors in beer.
Subscribe on iTunes to Audio version or Video version or on Google Play
Download the MP3 File – Right Click and Save As to download this mp3 file
[audio:http://traffic.libsyn.com/beersmith/BSHB-172-Hops.mp3]
Topics in This Week's Episode (47:54)
Today my guest is Stan Hieronymus. Stan is the author of many popular brewing books including For the Love of Hops, Brew Like a Monk and Brewing Local (Amazon affiliate links). Stan is also a certified beer judge and author of hundreds of other articles on beer.
We start with a short discussion of Stan's recent travels and what he has learned.
We dive right into the technical deep end on this show by discussing thiols and what they are.
Stan explains why thiols are so difficult to measure and isolate.
We talk about the potential link between thiols and tropical flavors including research done at Sapporo on hop oils.
Stan explains how we believe certain hop oils are associated with tropical and fruity flavors popular in many IPAs.
He then tells us about cutting edge research which indicates that thiols may play a much bigger role in these flavors than we thought previously.
We talk abou "thiol potency"
Stan provides a list of hops that are good candidates for getting tropical flavors into beer.
We also discuss dry hopping during active fermentation
Stan sums up what all of this chemistry means for an average homebrewer.
Sponsors
Thanks to Stan Hieronymus for appearing on the show and also to you for listening!
iTunes Announcements: I launched a new video channel for the BeerSmith podcast on iTunes, so subscribe now! At the moment it will only feature the new widescreen episodes (#75 and up). Older episodes are available on my revamped Youtube channel. Also all of my audio episodes are on iTunes now – so grab the older episodes if you missed any.
Thoughts on the Podcast?
Leave me a comment below or visit our discussion forum to leave a comment in the podcast section there.
Subscribe to the Podcast on iTunes or BeerSmith Radio
You can listen to all of my podcast episodes streaming live around the clock on our BeerSmith Radio online radio station! You can also subscribe to the audio or video using the iTunes links below, or the feed address
And finally, don't forget to subscribe to the blog and my newsletter (or use the links in the sidebar) – to get free weekly articles on home brewing.
Related Beer Brewing Articles from BeerSmith:
Enjoy this Article? You'll Love Our BeerSmith Software!
Don't make another bad batch of beer! Give BeerSmith a try - you'll brew your best beer ever.
Download a free 21 day trial of BeerSmith now