Follow @BeerSmith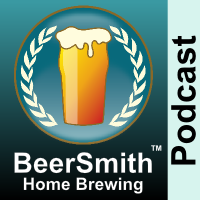 This week Denny Conn and Drew Beechum join me to discuss their new book Simple Homebrewing. The book is focused on making home brewing simple and fun again.
Subscribe on iTunes to Audio version or Video version or on Google Play
Download the MP3 File– Right Click and Save As to download this mp3 file
[audio:http://traffic.libsyn.com/beersmith/BSHB-195-Simple-Homebrewing.mp3]
Topics in This Week's Episode (46:29)
Today on the show I welcome back Drew Beechum and Denny Conn. Drew is author of The Everything Homebrew Book, The Homebrewer's Journal and The Everything Hard Cider book. Denny is a nationally ranked beer judge, and author of Craft Beer for the Homebrewer. They wrote Experimental Brewing together and today they join me to discuss their new book Simple Homebrewing. [NOTE: All links are Amazon affiliate links].
We start with a short discussion of what Denny and Drew have been up to recently.
Denny explains the genesis behind the book "Simple Homebrewing" and also describes what simple means when it comes to homebrewing.
Drew provides some advice for simple extract brewing and talks about how extract brewers can improve their beer and save time.
Drew and Denny provide some simplificiation tips for all grain brewers including the importance of planning ahead to save time during brew day.
Denny talks about both small batch brewing and Brew-in-a-bag (BIAB) which can be big time savers and also allow you to make experimental batches that may not require 10 gallons (40 liters) of beer.
Drew discusses how technology can be a double edged sword with the potential to both save time and make the brew day more complex.
Drew introduces the concept of simplifying flavors by including only the ingredients needed to achieve the flavors you want.
Denny talks about recipe design, and how it can also be simplified by taking the right approach.
Denny takes on a simplified approach to water and advocates a two-stage approach where you adjust the water profile first and then address the mash pH separately.
We discuss briefly ingredients, as well as managing yeast and fermentation, and Drew finishes with a discussion on sour beers.
Both guests provide their closing thoughts.
Sponsors
Thanks to Denny Conn and Drew Beechum for appearing on the show and also to you for listening!
iTunes Announcements: I launched a new video channel for the BeerSmith podcast on iTunes, so subscribe now! At the moment it will only feature the new widescreen episodes (#75 and up). Older episodes are available on my revamped Youtube channel. Also all of my audio episodes are on iTunes now – so grab the older episodes if you missed any.
Thoughts on the Podcast?
Leave me a comment below or visit our discussion forum to leave a comment in the podcast section there.
Subscribe to the Podcast on iTunes or BeerSmith Radio
You can listen to all of my podcast episodes streaming live around the clock on our BeerSmith Radio online radio station! You can also subscribe to the audio or video using the iTunes links below, or the feed address
And finally, don't forget to subscribe to the blog and my newsletter (or use the links in the sidebar) – to get free weekly articles on home brewing.
Related Beer Brewing Articles from BeerSmith:
Enjoy this Article? You'll Love Our BeerSmith Software!
Don't make another bad batch of beer! Give BeerSmith a try - you'll brew your best beer ever.
Download a free 21 day trial of BeerSmith now