Follow @BeerSmith
This week Marshall Schott joins me to discuss how many "short and shoddy" shortcuts you can take when brewing beer and still produce good beer.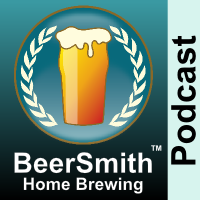 Subscribe on iTunes to Audio version or Video version or Spotify or Google Play
Download the MP3 File– Right Click and Save As to download this mp3 file.
Topics in This Week's Episode (45:41)
This week my guest is Marshall Schott from Brulosophy. Marshall runs the Brulosophy.com web site which features a wide variety of interesting Beer Experiments where common brewing beliefs are tested experimentally. In addition Marshall has a number of projects we'll be talking about including the Brulosophy podcast, and "Short & Shoddy".
We talk about Brulosophy and some of the challenges they've had getting experiments done during the current pandemic.
Marshall introduces the concept of "Short and Shoddy" brewing which involves taking as many shortcuts as possible while still making good beer.
We talk about an abbrevitated mash and how modern malts actually convert the sugars/starches in grains very quickly due to high levels of modification/enzymes.
Marshall also tells us about experiments using an abbreviated boil and how he has not had significant issues with DMS.
We discuss the direct pitch of yeast and how it can work even without using a starter.
Marshall explains how he sometimes gets away with pitching yeast slightly warm and without added oxygen.
We discuss brewing lagers at ale temperatures which can actually be successful if you choose the correct lager yeast strain.
We talk about gelatin from the grocery store and how it is a great clarity aid that is inexpensive and easy to use.
We talk about burst carbonation and he provides his closing thoughts.
Sponsors
Thanks to Marshall Schott for appearing on the show and also to you for listening!
iTunes Announcements: I launched a new video channel for the BeerSmith podcast on iTunes, so subscribe now! At the moment it will only feature the new widescreen episodes (#75 and up). Older episodes are available on my revamped Youtube channel. Also all of my audio episodes are on iTunes now – so grab the older episodes if you missed any.
Thoughts on the Podcast?
Leave me a comment below or visit our discussion forum to leave a comment in the podcast section there.
Subscribe to the Podcast on iTunes or BeerSmith Radio
You can listen to all of my podcast episodes streaming live around the clock on our BeerSmith Radio online radio station! You can also subscribe to the audio or video using the iTunes links below, or the feed address
And finally, don't forget to subscribe to the blog and my newsletter (or use the links in the sidebar) – to get free weekly articles on home brewing.
Related Beer Brewing Articles from BeerSmith:
Enjoy this Article? You'll Love Our BeerSmith Software!
Don't make another bad batch of beer! Give BeerSmith a try - you'll brew your best beer ever.
Download a free 21 day trial of BeerSmith now