Follow @BeerSmith
Michael Tonsmeire from Sapwood Cellars joins me this week to discuss some of the less glamorous aspects of running a small craft brewery.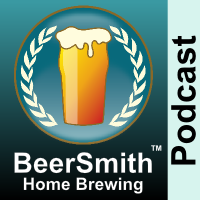 Subscribe on iTunes to Audio version or Video version or Spotify or Google Play
Download the MP3 File– Right Click and Save As to download this mp3 file.
Topics in This Week's Episode (57:45)
This week I welcome back Michael Tonsmeire. Michael is the founder of Sapwood Cellars in Columbia, Maryland as well as author of the book "Sour Beers" (Amazon affiliate link) and also the blog The Mad Fermentationist.
We start with a short update of how Sapwood Cellars has been adjusting during the pandemic, as we last talked shortly before it started.
Michael next moves to discussing some of the less pleasant aspects of running a commercial brewery which include complying with a web of taxes and regulations.
We talk about the daily logs he maintains to comply with state and federal excise tax laws on alcohol, as well as what is expected in terms of record keeping.
Michael also explains the dozen or so taxes he pays for payroll, income taxes, social security taxes, workman's compensation and more.
I ask Michael how he was able to learn about all of the various compliance and tax issues that come up in opening a brewery?
Michael switches gears to talk about an article on his blog titled "The economics of opening a brewery", which explains why the tap room is so important to remaining profitable.
We talk about labeling and packaging and how there are strict requirements for labeling as soon as you start to distribute across a state line.
Michael talks about unusual ingredients and how recipes using certain ingredients need to be approved by the government.
Michael explains where people can learn more about craft brewery startups.
He gives us his closing thoughts on running a brewery day to day.
Sponsors
Thanks to Michael Tonsmeire for appearing on the show and also to you for listening!
iTunes Announcements: I launched a new video channel for the BeerSmith podcast on iTunes, so subscribe now! At the moment it will only feature the new widescreen episodes (#75 and up). Older episodes are available on my revamped Youtube channel. Also all of my audio episodes are on iTunes now – so grab the older episodes if you missed any.
Thoughts on the Podcast?
Leave me a comment below or visit our discussion forum to leave a comment in the podcast section there.
Subscribe to the Podcast on iTunes or BeerSmith Radio
You can listen to all of my podcast episodes streaming live around the clock on our BeerSmith Radio online radio station! You can also subscribe to the audio or video using the iTunes links below, or the feed address
And finally, don't forget to subscribe to the blog and my newsletter (or use the links in the sidebar) – to get free weekly articles on home brewing.
Related Beer Brewing Articles from BeerSmith:
Enjoy this Article? You'll Love Our BeerSmith Software!
Don't make another bad batch of beer! Give BeerSmith a try - you'll brew your best beer ever.
Download a free 21 day trial of BeerSmith now