Follow @BeerSmith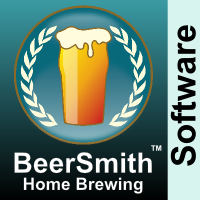 I'm pleased to announce that the BeerSmith 2.3 desktop update has been released for download. You can download the new version here. This update is free for all existing V2.x license holders, and the trial version is available for those just starting with BeerSmith. Versions are available for Mac, PC, and Linux (beta). I am working on updates to add the new brewing features to the mobile versions later this fall.
I've posted a detailed post of the features here!  Also I have a detailed guide here on using the new water analysis and mash pH tools.
Major BeerSmith 2.3 Feature Highlights
Some of the major changes include:
A new "Session" tab that consolidates brewing session data in one place and makes it easy to compare planned vs actual readings.
Mash pH estimation and acid adjustments built into the recipe editor along with improved water analysis.
Simplified recipe editing that makes it easier to create and adjust recipes including things like copy/paste/undo, the ability to add/delete multiple items at once, proper keyboard shortcuts and focus handling, and more.
Support for wide screen monitors including many resizable dialogs.
Proper late sugar additions for all grain, as well as a separate mash gravity and mash efficiency estimation.
Support for CO2 as well as isomerized hop extract additions.
The ability to lock/unlock recipes for editing.
An improved brewing engine that can integrate hop additions as gravity changes in the boil as well as carry over unused hops into the whirlpool for long whirlpool or "no chill" brewing.
A large number of bug fixes, usability enhancements, and recipe editing features to make the program easier to use.
You can view the detailed features post here and the full change log here in detail. This release incorporates many hundreds of updates, fixes and enhancements to make your brewing day easier, and I would like to thank the many dozens of testers who contributed to this release over the last few months as well as thousands of people who provided suggestions, data and ideas for the update.
I will be posting a series of articles and short videos on the BeerSmith blog in the coming weeks so please check back for tips on using new features in BeerSmith 2.3!
Thanks for joining me on the BeerSmith Home Brewing Blog. Be sure to sign up for my newsletter or my podcast (also on itunes…and youtube…and streaming radio station) for more great tips on homebrewing. Also check out the How to Brew Video series I shot with John Palmer if you want to learn more about all grain brewing.
Related Beer Brewing Articles from BeerSmith:
Enjoy this Article? You'll Love Our BeerSmith Software!
Don't make another bad batch of beer! Give BeerSmith a try - you'll brew your best beer ever.
Download a free 21 day trial of BeerSmith now