Follow @BeerSmith
Ted Fleming joins me this week from Partake Brewing to discuss how to brew alcohol free beer at home.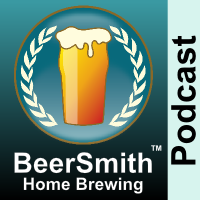 Subscribe on iTunes to Audio version or Video version or on Google Play
Download the MP3 File– Right Click and Save As to download this mp3 file.
Topics in This Week's Episode (42:13)
This week my guest is Ted Fleming. Ted is the owner of Partake Brewing in Toronto. Partake specializes in producing high quality non-alcoholic beers.
We discuss a bit about Ted's story and how he got into making non-alcoholic beers.
Ted tells us about his experience with the commercial non-alcoholic beer market and how he started originally with a web site selling non-alcoholic beers.
He explains some of the factors that motivated him to start producing his own non-alcoholic beers.
Ted shares his early days home brewing in an effort to perfect recipes for his brewery.
We discuss briefly Ted's use of "Gypsy brewing", which is a specific brewing term (not related to Gypsies) which means that he sources his brewing to an existing commercial brewery where they produce Partake's recipes on their equipment.
We talk about some of the methods a homebrewer could use to produce non-alcoholic beer at home including arrested fermentation and also alcohol separation.
The simplest method involves heating the beer to a temperature below the boiling point of water, but above that of alcohol so the alcohol will boil off. Unfortunately heating the beer also affects the flavor.
We discuss how you can try to maintain the right flavor balance in the beer in the absence of alcohol.
We briefly discuss bottling options, though most non-alcoholic beer makers will force carbonate (keg) their beer.
We discuss the styles that work best for non-alcoholic beer and challenges working with the delicate flavors.
Ted finishes with a bit more about Partake brewing including how much beer they produce and where you can find their products online.
Sponsors
Thanks to Ted Fleming for appearing on the show and also to you for listening!
iTunes Announcements: I launched a new video channel for the BeerSmith podcast on iTunes, so subscribe now! At the moment it will only feature the new widescreen episodes (#75 and up). Older episodes are available on my revamped Youtube channel. Also all of my audio episodes are on iTunes now – so grab the older episodes if you missed any.
Thoughts on the Podcast?
Leave me a comment below or visit our discussion forum to leave a comment in the podcast section there.
Subscribe to the Podcast on iTunes or BeerSmith Radio
You can listen to all of my podcast episodes streaming live around the clock on our BeerSmith Radio online radio station! You can also subscribe to the audio or video using the iTunes links below, or the feed address
And finally, don't forget to subscribe to the blog and my newsletter (or use the links in the sidebar) – to get free weekly articles on home brewing.
Related Beer Brewing Articles from BeerSmith:
Enjoy this Article? You'll Love Our BeerSmith Software!
Don't make another bad batch of beer! Give BeerSmith a try - you'll brew your best beer ever.
Download a free 21 day trial of BeerSmith now